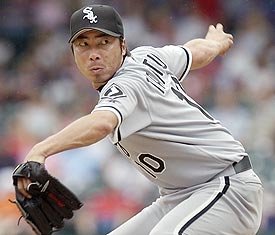 Shingo Takatsu (高津 臣吾, Takatsu Shingo) (born November 25, 1968 in Hiroshima, Japan) was the White Sox closer before Bobby Jenks. He was the closer until the 2005 season when a number of bad games caused Manager Ozzie Guillén to give the closer spot to Bobby Jenks.

Takatsu's nickname is Mr.Zero because he's given up zero runs in eleven games in the Japanese Championship. After the White Sox Takatsu played for the New York Mets before returning to Japanese baseball. He currently plays for the Sinon Bulls.
Statistics
Edit
(as of 2008) Japanese Professional Leagues:
573 Games
36 Wins
41 Losses
273 Saves
3.11 ERA
Major Leagues:
99 Games
8 Wins
6 Losses
27 Saves
3.38 ERA
South Korean League:
18 Games
1 Win
0 Losses
8 Saves
0.86 ERA
Section heading
Edit
Write the second section of your article here.